State License Verification
We are releasing enhanced automation over the coming weeks and months that will continue to improve how we pull, verify and store data from different primary sources. The value of creating this centralized data layer has many dimensions and our first release is focused on automating primary source verifications for state licenses. Using technology to automate state licenses has many benefits to our clients and to us. Specifically, this technology enables us to enhance our efficiency with the credentialing process, improve our accuracy.
As a result you will notice some enhancements to our Primary Source Verification (PSV) Report leveraging our centralized data layer. These enhancements have the following changes to make note.
Licenses not provided by Clients or attested to by Providers will not "Alert" the Overall State License Request, however this information will now be displayed in the PDF to provide more information on the data we pulled in about the provider. Note: if there is a disciplinary action or if an unreported license has expired less than 5 years ago, this will cause an alert in the report.

Individual licenses will now have a "Clean" or "Alert" Status on the PDF that is separate from the Overall Clean/Alert Status in the Summary at the top of the file. Having the individual license alert will make it easier to find which licenses may be causing the Overall State License Flag to be Alerted.

Any reported licenses that cannot be verified will now be shown in the PDF rather than as an attachment on the Provider's Profile.

There will be a couple of new fields you will notice on the state licenses that will help distinguish if the license was reported by yourself or the Practitioner and also which primary source the license information came from. Below are further details:




Example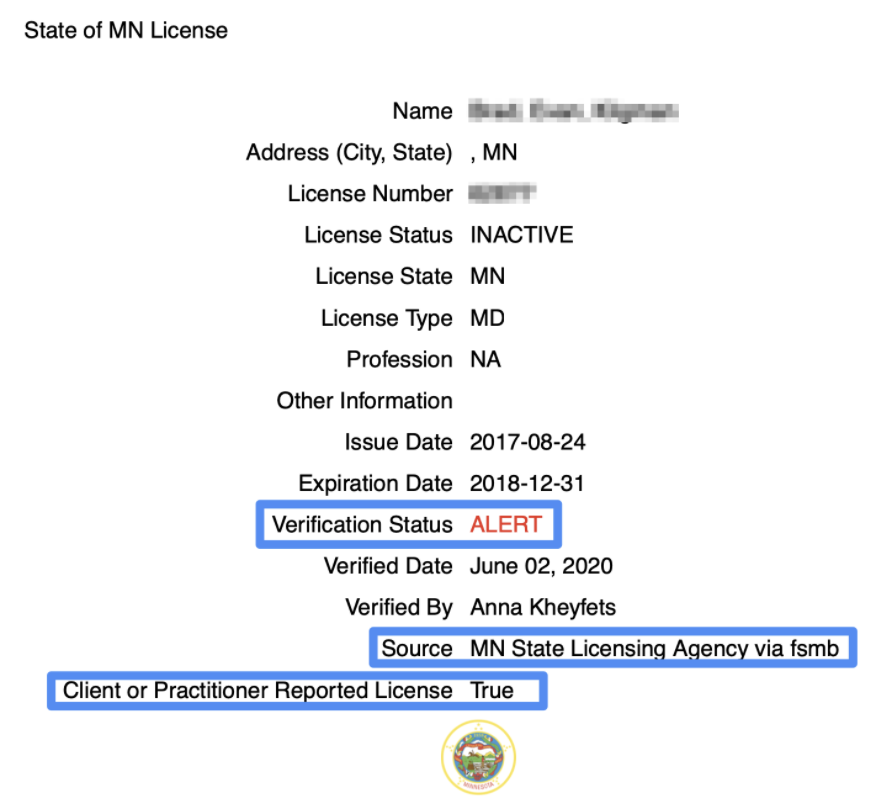 Fields Explained
Field Name

Description

Name

Providers Name

Address (City, State)

Address on source for license

License Number

License number on source

License Status

Status of license from source

License State

License State

License Type

License Type

Profession

Profession from source

Other Information

Other information if listed on source

Issue Date

License issue date

Expiration Date

License Expiration date

NEW - Verification Status




Clean

License is clean

Alert

License has an alert

Examples

License is expired and less than 5 years old

License has a sanction

Info Only

License was found in the data layer but was not reported by the provider or client. The license will not impact the overall state license request unless it has expired < 5 years ago or if there is a sanction on the license

Verified Date

Date the license was verified from on the source

NEW - Source

The primary source verification where the license information was verified from.

NEW - Client or Practitioner Reported License

If the license was on the application or provided at import from the client.
Automated Outreach
Over the last several months, our engineering and operations teams have been working diligently to build a better outreach platform. This critical process requires timing, consistency, and a strategic approach to prioritizing the right communication channel at the right time in order to work effectively.
The result of that work is an entirely new platform built with automation from top to bottom.
It's smarter
The right channel in the right order:

Not all communication channels are equal. In the case of outreach, we often have to share a lot of information with detailed instructions on how to take action and remedy a non-compliant application. We also know that clients often have the freshest contact information available and we should take advantage of that. As a result, we want to use the best channel available to us. The system prioritizes in the following ways:
Channel: Email > Fax > Phone
Source: Client > Application
For each channel, we'll try the client provided information first, and the application contact information second.
Net result -

A more strategic approach to the order of outreach means providers are more likely to get into PSV sooner and with a better experience.
It's faster
Twice daily attempts:

Previously, outreach campaigns were conducted once a week, this means on average a 2 to 3 business day lag between a provider being confirmed to have a non-compliant application and an outreach attempt being conducted. Now, attempts will be happening twice daily (that's 10X the frequency of attempts). This means that once an application is deemed noncompliant, mere hours will pass before that outreach attempt, not days.

Net result -

First attempts happening an average of 3.5 days faster on average.
It's more accurate
Fewer unnecessary outreach attempts:

Sometimes a provider updates their application right after we pull the records in preparation for our weekly outreach attempt. That process can take a while to evaluate and prepare thousands of providers and in those cases, a provider might get an outreach attempt

after

they'd updated their application. No longer! Now the increased frequency of CAQH pulls and daily attempts means that the compliance reviews we perform are on much fresher data and when someone is non-compliant they'll get an attempt immediately after that review.

Net result -

Hard to quantify but we think this will result in >80% reduction in the number of providers who receive an outreach attempt after they've already updated their application.
It's more persistent
Failing fast is key:

Because outreach campaigns happen on a weekly basis, if an outreach attempt fails there's a long wait before the next attempt occurs. Our new system is programmed to fail quickly! What that means is if a piece of contact information is invalid or we get a failed response from an email, fax, or phone call, the platform will

immediately

move on to the next piece of contact information in sequence. As a result, a couple of pieces of bad contact information goes from wasting half a month to half an hour or half a day at most.

Net result -

While this is only a benefit when we have bad contact information, in those cases the TAT for outreach will be reduced by 1+ weeks and in the worst case (when we have NO valid contact information) we can return those providers within days rather instead of the 30+ days it would have taken in the past.

We only count success:

Traditionally we return providers to the client after we have achieved the required number of attempts and in some cases that includes unsuccessful attempts. While this may still be true in limited cases, the decision engine is programmed to follow through on every last piece of available information before giving up. If the first two pieces of contact information fail (remember: they'll fail quickly) it won't give up until it's run out of options or achieved three

successful attempts

.

Net result -

Clients can be confident that the best effort was given and every last opportunity was exhausted before placing a provider in Return To Client status.

Balancing technology with a personal touch:

Even after all of the automation and speed, we know that sometimes we need a person to just reach out. As a result, we've designed the decision engine to ALWAYS try a phone call for the last attempt when possible and if an automated phone call fails, one of our agents will personally reach out by phone to complete outreach before we give up.
Have more questions? Get help here.