Welcome to the andros Application! This document will help guide you through completing your credentialing application to get through the credentialing process quickly.
You're invited to andros!
Providers that are part of the andros network are invited directly by the health plan or company they are being credentialed by. As a first step of that process, providers receive an email from andros requesting that they create an account to get started with the credentialing process.
From the email, click:
"Accept Invitation" if you have never logged into andros previously and need to create an account

"Login Here" if you have previously created a andros account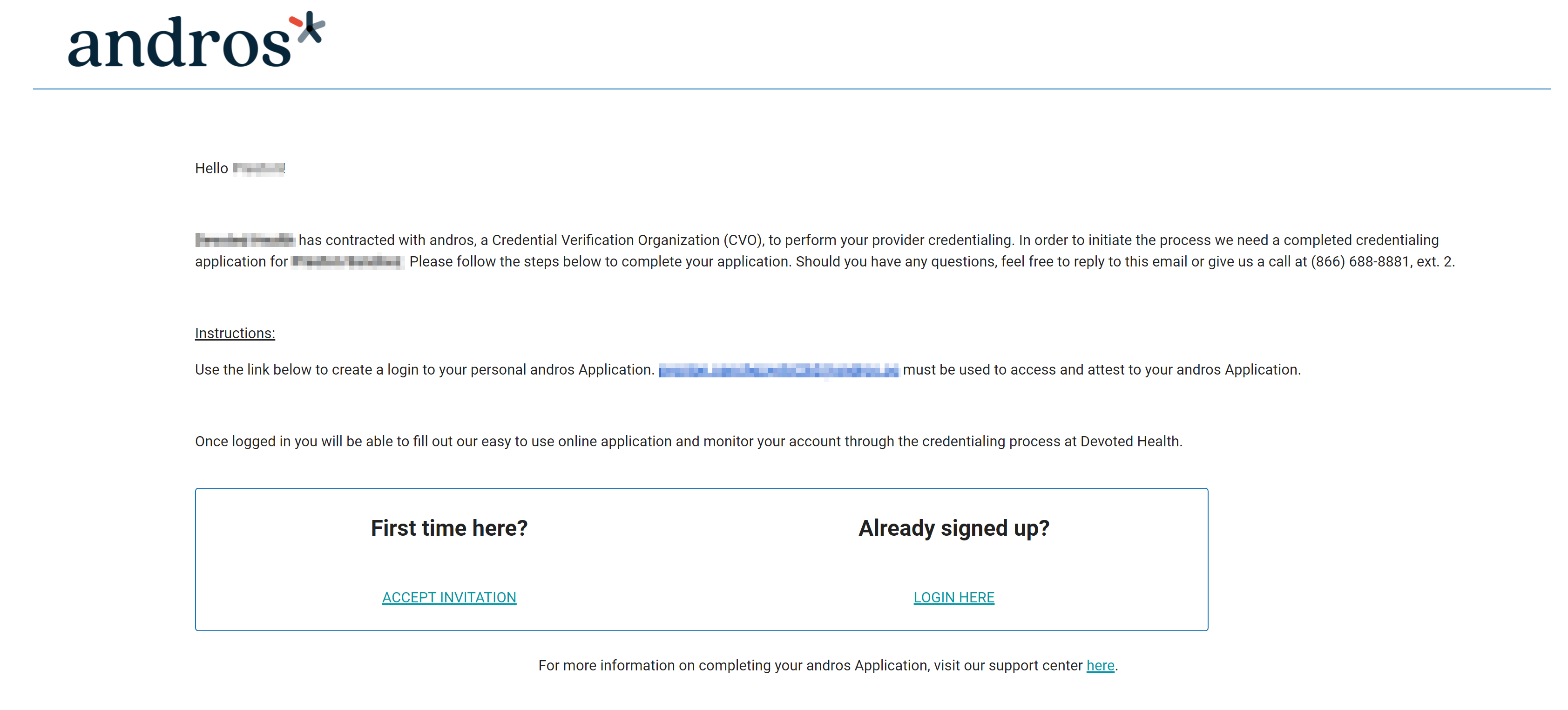 Access and Complete Your Application
Navigate to the Application page (the folder icon) in the navigation bar at the left side of the page. Then click 'Manage Application.'


Personal Profile
Once in the Application, you'll be brought to the Personal Profile section. Click "Edit" on the bottom right to edit this section.



Once you've finished, click "Save" (click "Cancel" if you don't want to save any of the information entered) and "Next" to move on to the next section.
License Information
The next section is

License Information. On this page you'll find the license and certifications that we request you enter into the application. To add licenses in this section click "+". You must complete and save the license you are working on in order to add additional licenses.


State Licenses

- State licenses are required for credentialing. Please complete all required fields.

DEA/CDS Registrations - DEA or CDS registrations should be added to the provider's application if the provider has a DEA or CDS license. If a provider does not have a DEA or CDS license, they should select "I do not have a DEA/CDS registration" in this section. To add registrations in this section click "+". You must complete and save the registration you are working on in order to add additional registrations.




Medicare and Medicaid Numbers

- Medicare and Medicaid numbers are optional for providers to add to the application. These may be used by the health plan for billing but are not required for credentialing. Providers are encouraged to add this information if applicable. If you do not have a Medicare or Medicaid number, select "I do not have a Medicare/Medicaid number" in that section.
Education/Training

- In the education and training sections, providers should list their education, training (internships, fellowships, residencies), and specialty information.

Training is only required if work history is less than 5 years.



Work History - Providers need to report 5 years of work history. If a provider does not have 5 years of work history, work history count begins at the time their earliest license was issued.



Time Gap Explanations -

If there are any gaps between license issued date and work start date greater than 6 months, these should be explained in the "Gap Explanation" section. Providers may also list any fellowships they held between license issued and work start date.
Practice Details
Practice Locations - Providers should list their practice location information here.




Note: you can retrieve your practice's Tax ID by contacting the practice you are currently/will work at for that information.
Malpractice Information - Provider should provide their current malpractice information. If you are not required to carry malpractice insurance please select "I am not required to carry malpractice insurance" at the top of the section.

Disclosure, Authorization, & Attestation
Disclosure Questions - Provider should complete and answer each question. If you answer "yes" to any question, please ensure you explain you answer in the text boxes that will appear.

Attestation - Providers should read and click on the "Sign and Attest Now" at the bottom of the page to complete your attestation.
Review & Submit
Please review and edit any changes you wish to make to your application on this page. Also correct any errors that are present. Once everything is compliant you can submit your application at the bottom. The application will not allow you to proceed until all exclamation points have been corrected.


Congratulations! You have now completed your application. Please note we may reach out to you if we need any additional information or clarifications.
Have more questions? Get help here.