1. Register for a NPDB Account
What if my organization already has an NPDB Account? If your organization already has a NPDB account, skip this step (step 1) and start at step 2 (Authorized Agent Designation).
The National Practitioner Databank (NPDB) is a centralized source for querying providers' malpractice history, sanctions, and board actions. Companies must be approved by the NPDB to query the databank and some entities are also required to report cases to the NPDB. The registration process involves classification by the NPDB of your type of organization.
Go to:

https://www.npdb.hrsa.gov/hcorg/register.jsp

and select "Start a new Registration" to create a new NPDB account.




Click through and fill out each required page on the Entity Registration* form.


Describe the scope of your practice, which determines your relationship to the NPDB. You may be asked to provide documentation by email or mail.

You will also need to choose one person to be the primary Databank Administrator.





One setting that is required is to allow query privileges. A

fter you complete the Eligibility Questionnaire, on the Query Option screen, check the box to

Allow Users to Query

.





On the Confirmation screen, check that your organization is privileged to Query.
Please note that the NPDB could take up to a couple weeks to review your registration before they approve your account. Additionally, you will also be required to submit documentation to the NPDB about your organization.
2. Authorized Agent Designation
This step gives andros the ability to add providers to your NPDB account and display their data on the andros platform.
After you receive your NPDB account information and set up a user account, log into your account. From the Administrator Options screen, select Maintain Agent Information, then click Add.


Complete the Designate Authorized Agent web form:



Last 4 digits of andros's Data Bank ID: 5384
Agent Organization Name: Simple Health Ventures
City/state/zip: New York, NY

10016

Authorized to:

One-Time Query*. Authorize Agent to use

Entity EFT: NO
Route query reports to: Both my entity and my agent
Return responses via: QRXS



Enter a Certifying Official, then click Continue to review and submit your settings.
*If One-Time Query does not appear, your organization does not have query privileges. Click Update Registration Profile from the Administrator Options screen and toggle Allow Users to Query (see step 1 #3 above).
3. Activate Continuous Query
Continuous Query allows for immediate notification of any new sanction, board action, or malpractice event and is required for compliant provider monitoring. After you finish Authorized Agent Designation, andros will get a notification email and will approve the agent designation. You will then get an email of this event. When you receive this email, proceed to the next steps:
From the Administrator Options screen, select Activate Continuous Query.

Acknowledge and certify continuous query.

Return to the Administrator Options screen. Now, you will have a Continuous Query Options button; click this button.
Toggle Manual Renewal and Continuous and One-Time Query and click Save.
Return to the Administrator Options screen and click Maintain Agent Information. Toggle Simple Health Ventures and click Edit. This will bring you back to the Designate Authorized Agent screen.
In the Configuration section, Continuous Query is now a selection option, while before you could only select One-Time Query. Toggle Continuous Query to select both query options.

Re-certify and submit the settings.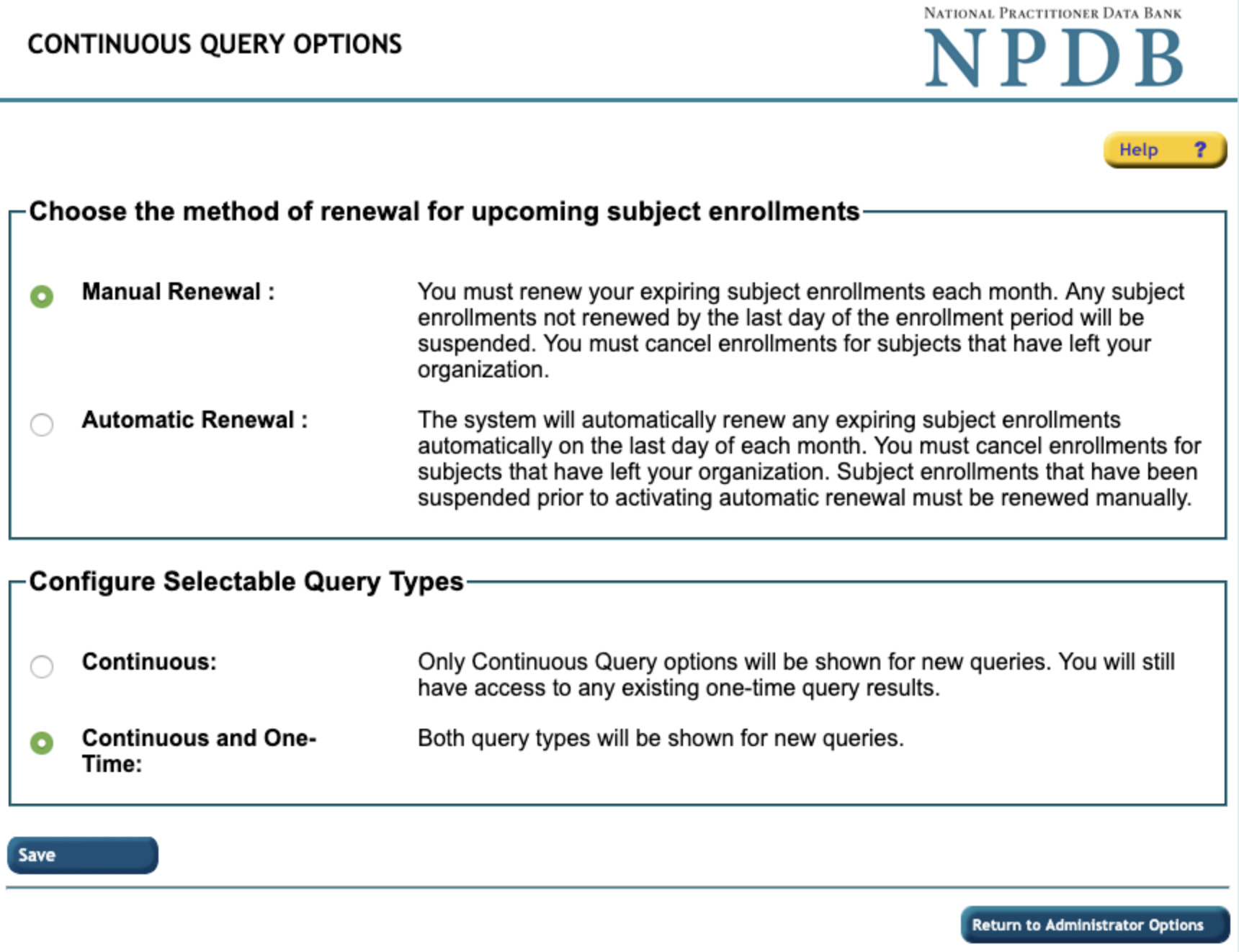 4. Important Final Steps
Provide your Data Bank ID

to your CSM for next steps. This is the 15 digit number you use to sign into your NPDB account at

http://www.npdb.hrsa.gov/

).
Have more questions? Get help here.