1. Register your Health Plan with CAQH
Skip step 1 if you already have a CAQH Participating Organization account, and proceed to step 2.
Contact CAQH at (202)-517-0384 or send an email to sales@caqh.org to register your Health plan or healthcare organization as a new CAQH Participating Organization. A CAQH representative will work with you to establish your organization's CAQH ProView account.
2. Setup andros as a User
You will need to configure an account for andros in CAQH in order for andros to be able to access and download the CAQH provider data.
Standard PO User
Once the account is set up, login at

https://proview.caqh.org/po

to set andros up as a "Standard PO User".

From the homepage, click Account, and select Manage Roster.
From the 'Manage User' screen, select Add User to add andros as a new user.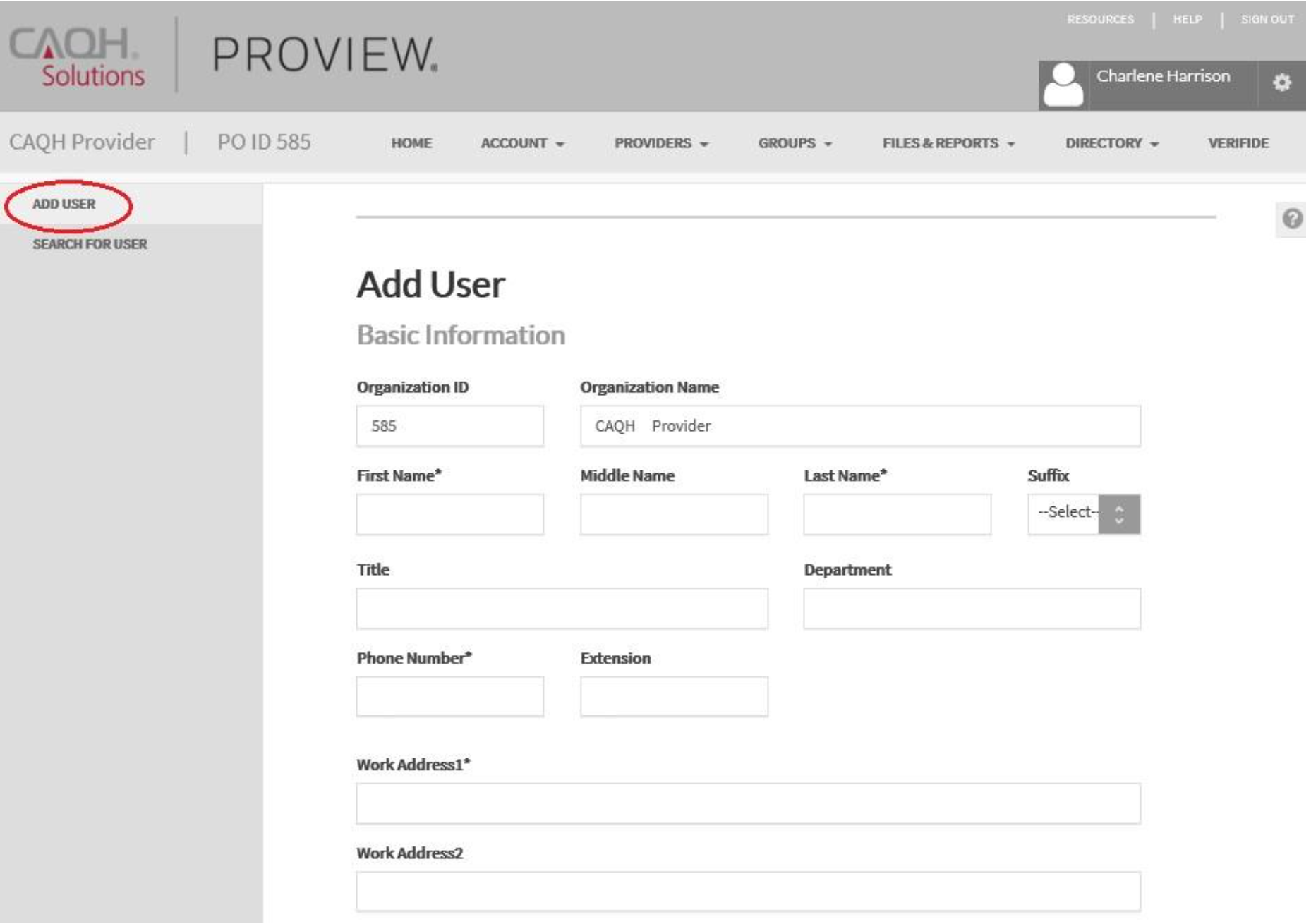 Put in the required information below for the user "andros CVO".


| | |
| --- | --- |
| Required Field | What to Enter |
| First Name | andros |
| Last Name | CVO |
| Phone | 866-688-8881 |
| Email | [Your CSM will provide you with this]. It will be formatted as "Clients+YourOrganization@andros.co". For example if your organization name is US Health, then the email would be Clients+USHealth@andros.co. |
| Work Address | 169 Madison Avenue, #2222, New York, NY 10016 |
| User Type | Standard PO |
3. Setting Up Email Notifications for New Accounts
In order for andros to extract XML data, you'll need to set up email notifications for andros.
For both the Standard PO User and File Scheduler accounts please do the following:
From the home screen, click on

Files and Reports > Schedule and Download Files. Then, on the side navigation pane, click Custom Extracts under the Download Files menu.
On the right hand side in Custom Extracts you should see E-mail Notification Recipients. Below that heading, you should see an Edit

option . Click on Edit. This will bring you to the

Edit Organization Profile

page.

In the Edit Organization Profile page, click on Additional Data

on the left hand side and scroll to the bottom of the screen to see Email Notifications.

In the Email Notification, add Clients+YourOrganization@andros.co

plus any additional email that should receive data extract notifications for your organization.

Be sure to save once you have added the email addresses.

Have more questions? Get help here.